Minimizer recognized for excellence in thermoform engineering
For the past 4 years Minimizer has been quietly working on an industry-changing fender: Minimizer Chrome Poly. The launch of this new fender occurred Thursday, August 25 at The Great American Truck Show in Dallas, Texas.
The new Minimizer Chrome Poly fender has the shine and mirror finish of traditional chrome metal but with the Minimizer poly features, uniqueness and durability users have come to expect from Minimizer fenders. It is truly an industry-changer. The shiny look of metal on a chrome poly fender combined with the unique advantages of Minimizer fenders: no painting, no fading, no rust and no cracks.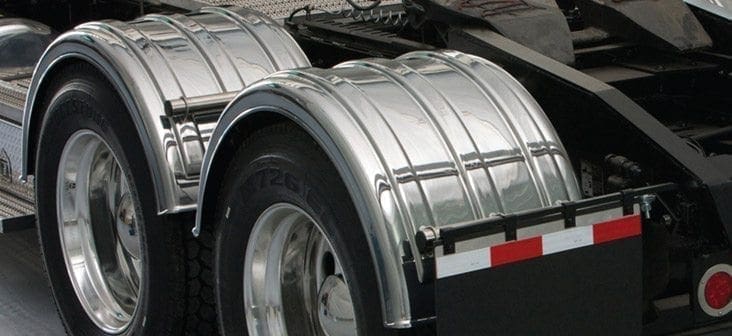 Minimizer is a supplier to the heavy-duty truck industry. But the product Minimizer delivers requires the company to be an expert manufacturer in the thermoform plastics industry.
"Innovation in the thermoform plastics industry is what really sets us apart," noted Craig Kruckeberg, Chief Visionary Officer of Minimizer. "Our manufacturing division, our engineers and our plant are what really carries Minimizer; they bring our unique product to market."
Indeed, the challenge of bringing a chrome poly fender to market, hiring the research and development staff and engineers, purchasing the new equipment, and perfecting the processes has taken years of experience-building and investment from Minimizer. And the company is no stranger to these efforts.
And it hasn't gone unnoticed.
In September, at the 2011 Thermoforming Conference in Schaumburg, Illinois, Minimizer was a Silver Medalist in the Heavy Gauge Vacuum Forming Parts Competition.
"This is the first time we've entered a thermoforming competition," said Kruckeberg, "And the dynamics of this competition were such that we ended up going head-to-head with some of the largest tier-one suppliers to the automotive and heavy duty truck industries. To win against these companies was a real affirmation we're doing a lot of things right."
Minimizer chrome poly fenders are now available via Minimizer's international distribution network. To order Minimizer chrome poly fenders find a distributor by clicking here.
Minimizer fenders will enhance the performance of all makes and models of over the road trucks, construction vehicles, or agriculture equipment. Enhance and protect your vehicle with Minimizer products. The toughness is unmatched as seen on this Minimizer promotional video entitled "Tested & Tortured".
For more information or to contact a dealer, call us at (800) 248-3855 or visit our website or email us at info@highbarbrands.com.
About Minimizer
Headquartered in Blooming Prairie, Minnesota, USA, Minimizer manufactures poly truck fenders, poly Tool Boxes, customized mud flaps, and bracket kits. Family owned and operated for nearly three generations, Minimizer parent company Spray Control Systems, Inc., was founded in 1983. Minimizer aims to provide products tough enough to please tough people in a tough industry. For more information call (800) 248-3855 or visit https://www.minimizer.com.